Nowadays, you can use 3D printing technology to print organs, bones, mechanical parts for a car or construction parts for an aircraft. And don't forget that you can now even 3D print a house now. This is a far-reaching industrial revolution. However, this industrial revolution would not have been possible without the best industrial 3D printers.
So what does industrial grade 3D printer bring to the table? How should you choose the right industrial grade 3D printer? If you don't want to invest in a printer, do you have the other options? Let this article give you the detailed answer.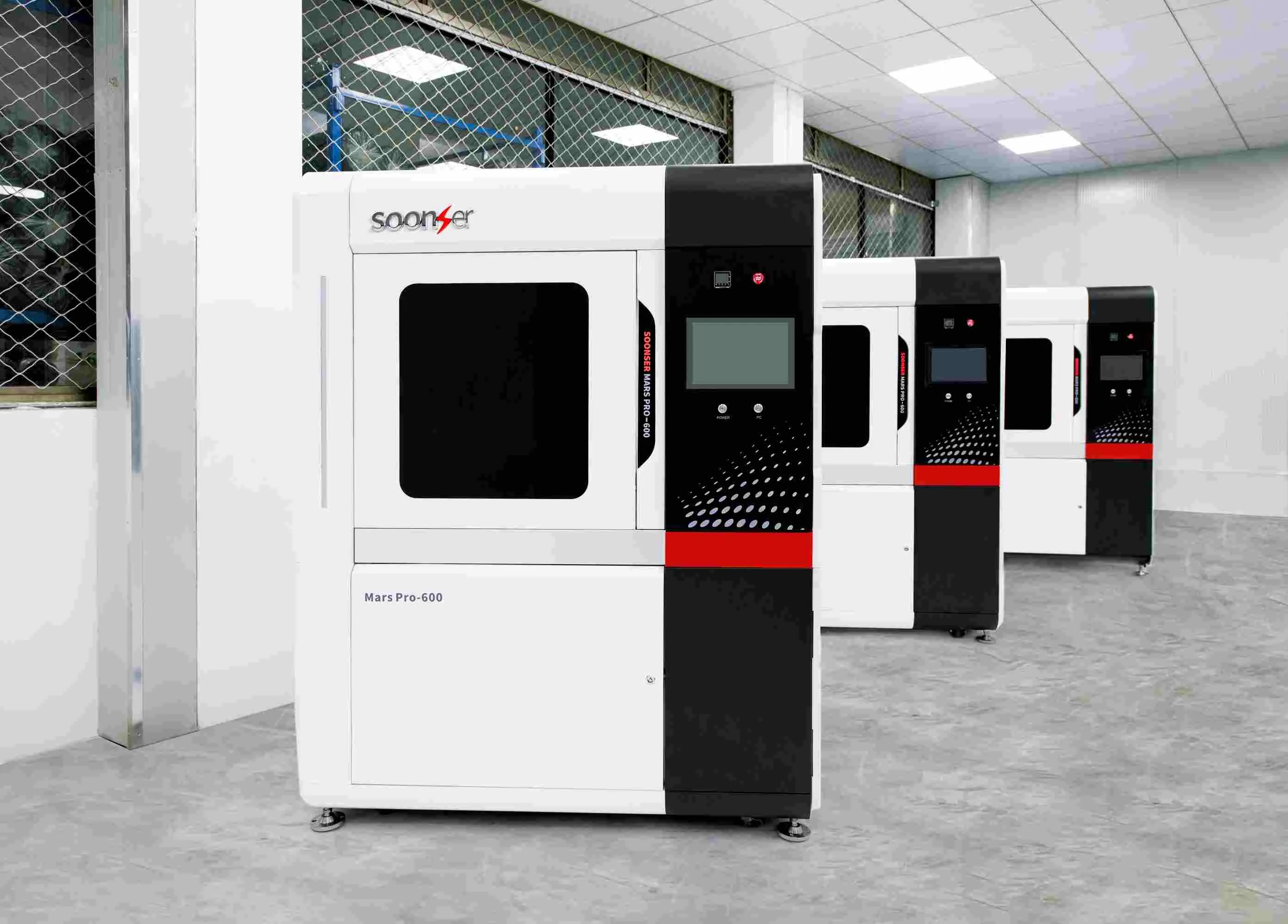 What's the benefit of industrial 3D printer?
First of all, industrial-grade 3D printers are extremely powerful in many ways. They are capable of producing parts with extremely high precision. While a hair is between 17 and 180 Micron, the Soon-Ser Mars Pro series of 3D printers can achieve a print accuracy up to 100 Micron, presenting excellent precision and surface finish.
Industrial 3D printers also allow the production of highly complex objects. With additive manufacturing you can achieve a whole new level of design freedom. 3D printing allows for a high degree of customization of parts, which is not possible with conversional methods.
Industrial 3D printers are also more economical as they allow for the production of small batch manufacturing. They can be set up to manufacture entire batches, optimized for low material waste. Not only that, but in most cases the 3D printed objects come straight out of the industrial 3D printer ready to use. These factors mean lower production costs.
Moving from traditional manufacturing methods to using industrial 3D printers also means a faster production process. 3D printers are faster, sometimes reducing the manufacturing process from weeks to just a few days. They do not involve molding or casting, eliminating many time-consuming processes. Very often, the 3D printed parts are also fully functional and ready to use once the 3D printing process is complete. This means that there is no need to spend time on assembling the parts.
Factors need to be considered before you purchase an industrial 3D printer
Before diving into which printer to buy, figure out why you want one. What business demand can industrial-grade 3D printing address, what strategic goals can help your company achieve, or what new opportunities can 3D printing provide for your business? If possible, link these needs to your company's overall strategic plan and clearly state them in your 3D printing proposal in order to get company management to agree. To clarify your printer procurement goals, consider these questions.
Which of the following problems are you hoping to solve by purchasing an industrial-grade 3D printer.
a.Reduce the cost of prototyping or tooling?
b.Speed up the printing of prototype iterations or production parts?
c. Produce spare parts on demand in the field?
d. Gain efficiencies throughout your production process?
e. Gain a competitive advantage by bringing new products to market faster?
f. Print unique parts with attributes that can't be made any other way?
g. Save on material costs or material waste?
h. Keep your design development or intellectual property production in-house?
i. Offer your customers individual customized products (e.g. healthcare or consumer products)?
Knowing what applications your printer needs to cater for is the key to make a decision. The second important question related to the application is "How big is it for the 3D printer I would like to choose?" One of the benefits of a large format 3D printer is that you can print large parts or many small parts. This is one of the limitations of smaller printers, because you can never print large parts in one print, you always have to put them together afterwards.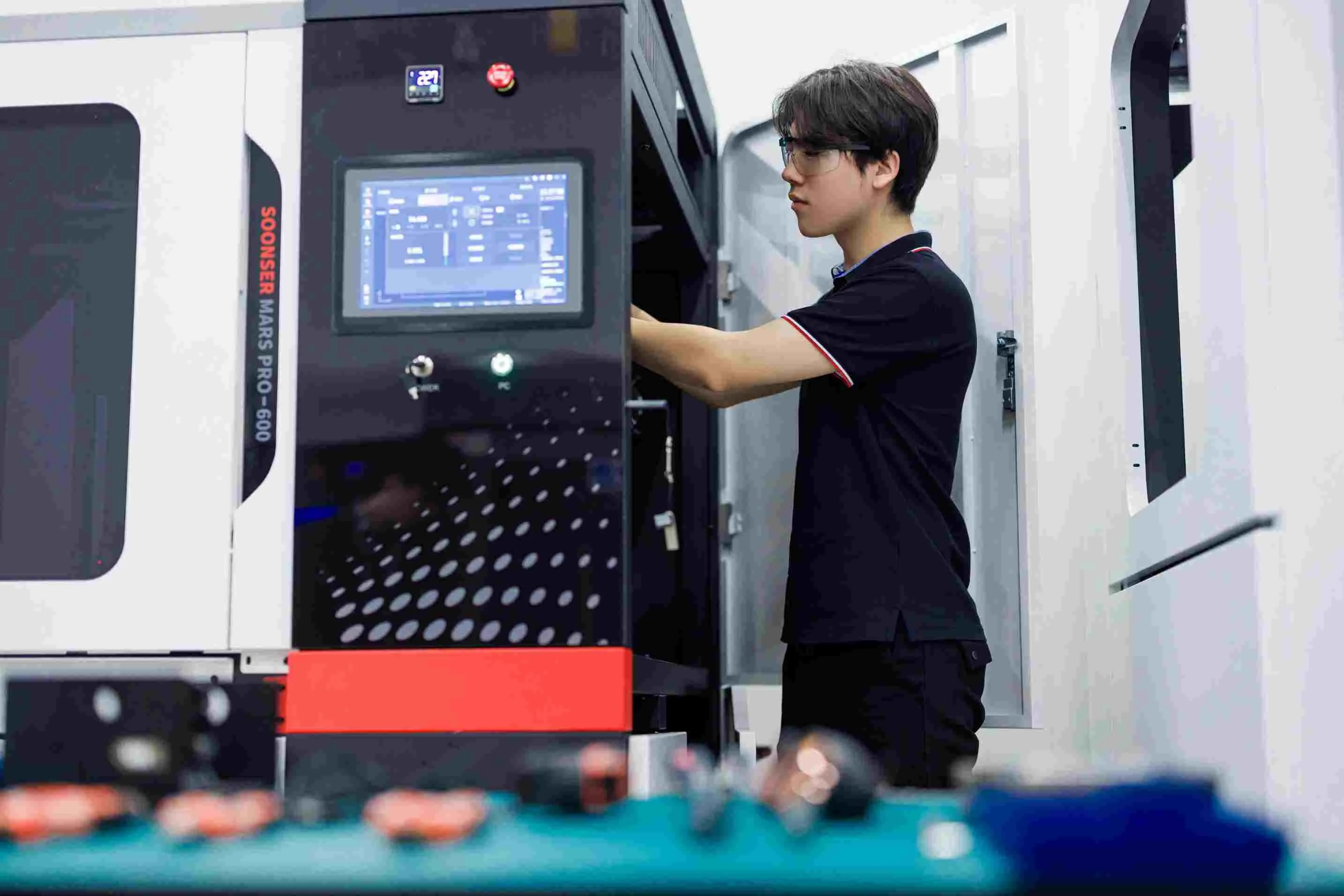 The next factor needs to consider is: material. When you are comparing the materials to be printed, you should consider whether you want your printer to be a closed or open source one. What's the difference? A closed system requires you to use the only materials from the manufacturer and you can't use the third party materials. An open source system allows you to use any material within the printer's specifications.
The next factor to consider is the software. Almost every printer manufacturer has their own software that will set up the parts to be manufactured and sliced, and some 3D printing companies are open source and allow you to choose any slicing software. The SoonSer 3D printers come with self-developed software that allows one-click printing and offers such things as hardware usage and part tracking capabilities that are very convenient.
The final thing to consider is the budget. Industrial grade 3D printers can range in price from $10,000 to $150,000. As well as considering the cost of buying the equipment, you also need to consider the cost of materials, shipping and after-sales service. Talk to your product manager to get an in-depth analysis of the application and what return on investment it will give you.
SoonSer industrial grade 3D printer with three large format types, 600 x 600 x 400mm, 850 x 850 x 500mm and 1600 x 800 x 600mm. As an open source system, it can be used with any material application and is equipped with self-developed software, highly stable, reliable, durable and cost effective with a wide range of applications in the industrial sector.
What if you don't want to invest in buying an industrial 3D printer?
SoonSer 3D is now offering online 3D printing services and we can provide you with the ultimate additive manufacturing experience. We have a wide range of 3D technologies such as SLA, SLS, DLP and a variety of comprehensive materials to suit your production needs. Some of these materials are extremely robust and durable; others are highly heat or chemical resistant.
Using an online 3D printing service can be very beneficial to your production. All you have to do is send us your design files. With us, your production process can be more efficient, faster and less costly. SoonSer 3D has the advantage of handling some complex projects, for more details you can contact us at info@soonser.com